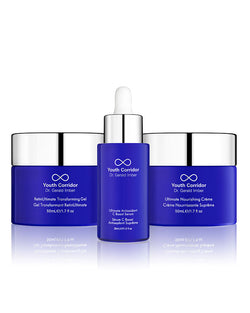 "It's everything you need for your at-home skincare routine to help with prevention, maintenance and correction. It doesn't get any easier than this set."
~ Dr. Imber
Fend off damage with the powerful Ultimate Antioxidant Boost Vitamin C Serum, rejuvenate skin with RetinUltimate Transforming Gel containing our patented retinol formula, and nourish skin with Ultimate Nourishing Crème. Three simple steps to conquer signs of aging on your skin.
Ultimate Antioxidant Boost Vitamin C Serum

A crucial skincare product for all ages and skin types, this blend of L-Ascorbic Acid, Vitamin E, and Melatonin shields skin from environmental and sun damage and improves overall skin tone.  
Ultimate Nourishing Creme
This formula includes a combination of moisturizing and protective ingredients to provide long-lasting hydration and balance overall complexion.  
RetinUltimate Transforming Gel
A highly effective anti-aging treatment features a patented retinoid derivative used to rejuvenate skin's appearance when used nightly. Do not use if pregnant or nursing.
Please see each individual product.
Please see each individual product.
What are delivery methods and timing? 
Youth Corridor ships via United Parcel Service. Orders will ship within 48 hours if placed Monday thru Thursday. Orders placed on Friday, Saturday or Sunday will ship by Tuesday of the following week. Delivery timing will follow standard UPS delivery schedules and each customer will have access to track their order at any time.
Are your products organic?
Our products aren't organic but we make an effort to make them as safe as possible without compromising the formulas. 
Are your products tested on animals?
No, our products are not tested on animals. 
Can I use your products if I have sensitive skin?
Our products can be used on all skin types. If you find the product is irritating you can return the purchase within 14 days. We can also include other product samples you would like to try with any product order for no additional cost. 
Do you sample products?
We can sample most of our products with any order if you are interested. When placing your order, including products you'd like to sample in "Add Order Note."
How can I determine what products are best for my skin?
Our staff is always available to help you navigate our product offerings. Please email youthcorridor@gmail.com or call 646-449-8000 with any questions and you'll receive a response within an hour during business hours, Monday-Friday 9am-5pm EST. 
Do your products contain artificial fragrances?
No. Our products do not contain any added fragrances. 
Are your products safe to use during pregnancy?
All products except for the RetinUltimate Transforming Gel and Revitalizing Beta Hydroxy Mask are safe to use during pregnancy. 
Can I use the RetinUltimate Transforming Gel every day?
Yes, you can apply the RetinUltimate Transforming Gel every night. Our formula is released over time to prevent any irritation or peeling associated with other retinol formulas.
FEATURED IN