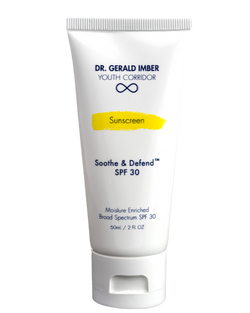 "A zinc-based sunscreen that feels great, protects and moisturizes skin, and isn't expensive. Use it and thank me later."
~ Dr. Imber
PRODUCT DETAILS

Zinc Oxide, Octisalate, and Octocrylene provides the ultimate UVA and UVB sun protection
Vitamin E is a potent antioxidant to help shield skin from environmental oxidation.
Green Tea and Aloe treat and repair skin from immediate sun damage, like inflammation.
Size: 2 fl Oz
Apply to face every morning and 15 minutes before direct sun exposure. Reapply as needed or after towel drying, swimming or sweating.
Octocrylene 8.00% , Octisalate 5.00%, Zinc Oxide 3.00%, Aloe Barbadensis Leaf (Aloe Vera Gel) Juice, Aqua (Deionized Water), C12-15 Alkyl Benzoate, C13-14 Isoparaffin, Camellia Sinensis (Green Tea) Extract, Cetyl Alcohol, Cucumis Sativus (Cucumber) Extract, Dimethicone, Dodecane, Ethylhexylglycerin, Glycerin, Glyceryl Stearate, Glycyrrhiza Glabra (Licorice) Extract, Helianthus Annuss (Sunflower) Oil, Laureth-7, PEG-100 Stearate, Phenoxyethanol, Polyacrylamide, Polysorbate-20, Purnus Amygdalus Dulcis (Almond) Oil, Stearic Acid, Tocopheryl Acetate (Vitamin E), Triethanolamine, Zemea (Corn) Propanediol.
What are delivery methods and timing? 
Youth Corridor ships via United Parcel Service. Orders will ship within 48 hours if placed Monday thru Thursday. Orders placed on Friday, Saturday or Sunday will ship by Tuesday of the following week. Delivery timing will follow standard UPS delivery schedules and each customer will have access to track their order at any time.
Are your products organic?
Our products aren't organic but we make an effort to make them as safe as possible without compromising the formulas. 
Are your products tested on animals?
No, our products are not tested on animals. 
Can I use your products if I have sensitive skin?
Our products can be used on all skin types. If you find the product is irritating you can return the purchase within 14 days. We can also include other product samples you would like to try with any product order for no additional cost. 
Do you sample products?
We can sample most of our products with any order if you are interested. When placing your order, including products you'd like to sample in "Add Order Note."
How can I determine what products are best for my skin?
Our staff is always available to help you navigate our product offerings. Please email youthcorridor@gmail.com or call 646-449-8000 with any questions and you'll receive a response within an hour during business hours, Monday-Friday 9am-5pm EST. 
Do your products contain artificial fragrances?
No. Our products do not contain any added fragrances. 
Are your products safe to use during pregnancy?
All products except for the RetinUltimate Transforming Gel and Revitalizing Beta Hydroxy Mask are safe to use during pregnancy. 
Can I use the RetinUltimate Transforming Gel every day?
Yes, you can apply the RetinUltimate Transforming Gel every night. Our formula is released over time to prevent any irritation or peeling associated with other retinol formulas.
FEATURED IN


I love this sunscreen.
Coverage is great. The moisturizing effect on the skin gives it a subtle glow and makeup goes on perfectly over it. I pair it with the Vitamin C Serum and love how my skin looks.
My favorite sunscreen
I have tried several sunscreens before purchasing this one, and it has become my favorite. It's light, has vitamin E and green tea, all great ingredients!
Just replaced my other "favorite" face sunscreen with this
I am a loyal Dr. Dennis Gross face sunscreen user....until I started using this sunscreen. It is the best. I love it because often when you wear face sunscreens and then try to put concealer on after, it cakes up or you get weird residue that I then have to literally wipe off my face. This is seamless. It goes right into your skin and no residue left at all so it makes for a great layering sunscreen. I love it!
Sunscreen
Thank You!! Finally, a great sunscreen to wear daily that moisturizes my skin. It is now part of my skincare routine. I never leave the house without it. I love that it does not leave a white film or a sticky residue behind and I can layer it over all the other products I use each day, and there is no scent. I feel very well protected when using this product!